2018 Honda Clarity
New 2018 Honda Clarity Plug-In Hybrid Touring | FWD | CVT Automatic
Honda Clarity Exterior Features

Vehicle Entry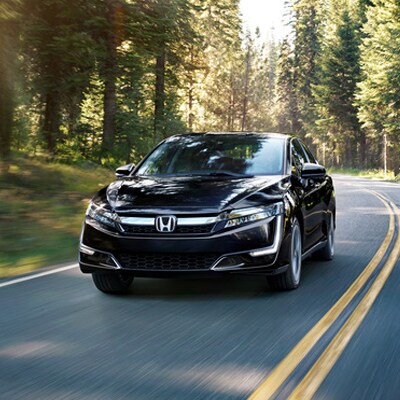 Automatic Lock with a Key-Free Entry
Available Smart Entry with Walk Away Auto Lock simplifies those moments you open up the door and those times that you step away. Keep your keys in your pocket upon arrival to your parked car with this feature. Don't worry about getting them out when you arrive at your destination, with detections that lock up your vehicle once you've reached a given distance from it.
Lights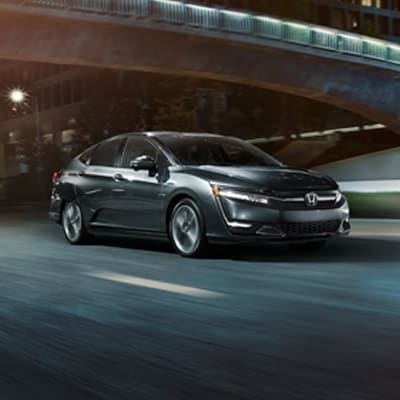 LED Influence on Style and Vision
LED lighting serves a two-fold purpose for your vehicle's appearance and the safety you enjoy. Accentuating the 2018 Honda Clarity's pronounced exterior body design with a piercing look, stealing the show on the open road is not difficult. This emphasized visibility with both LED headlights and taillights gives you better sight and makes your presence known to other travelers.
Active Safety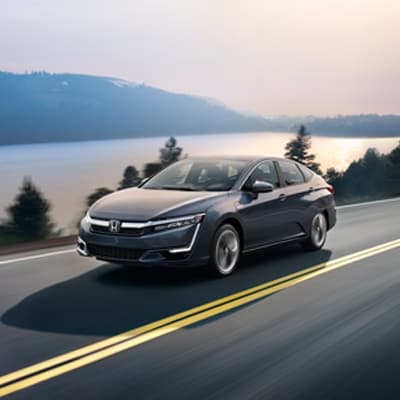 Interpret and React to the Road
Standard Honda Sensing offers driver-assist technology you can expect to just be available on some other plug-in hybrid models in the marketplace. Both cameras and radar sensors pick up on movement surrounding your vehicle for peace of mind as you travel. From road departure mitigation to lane keep assist, this means you can enjoy a proactive approach to dangers on the open road.
Honda Clarity Interior Features


Cabin Settings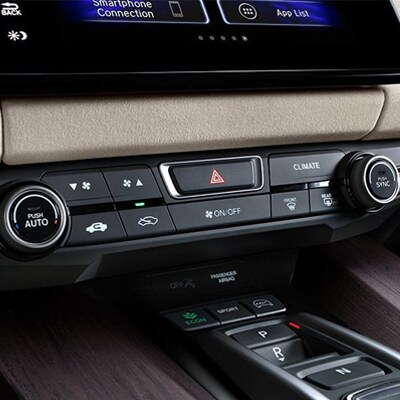 Dual-Zone Temperature Management
Dual-zone climate control within the cabin of the 2018 Honda Clarity Plug-In Hybrid can warm you up or cool you down depending upon the season and temperature outside. Whether you wish to get your vehicle situated on colder mornings or need a breather on warmer days, both you and your guests will appreciate the versatility of this feature.
Cargo Space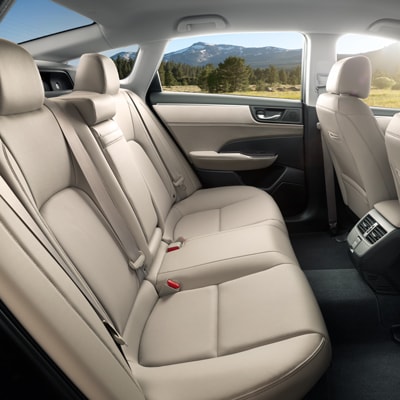 A Spacious Trunk for More Room Within
Featuring 15.5 cubic feet of cargo volume in the trunk area, this new Honda model allows you to store everything from your personal workout gear to grocery bags in the back without issue. This keeps your interior cabin comfortable without space taken up, with 60/40 split-folding rear seats in the case you do require extra space for storage.
The 2018 Honda Civic is the Trustworthy Commuter Car You've Been Searching For
The Honda Civic. Even just saying the name among experienced car drivers speaks volumes. That's because Honda, with the Civic model line, has built one of the most sterling reputations in the auto industry. When you slip into the driver's seat of a new Honda Civic, you know you can count on driving a car that's safe, efficient, feature-rich, and reliable.
The 2018 Honda Civic carries the torch of that reputation and raises it even higher. With a spacious and comfortable interior, powerful powertrain options, and valuable features, it delivers a fun and safe driving experience that's perfect for drivers in San Diego, El Cajon, El Mesa, and beyond.
A Compact Sedan Full of Fine Features
The 2018 Honda Civic comes in seven different trims with options for two powertrains. Both powertrains offer plenty of horsepower and efficiency. What defines the different trims, in turn, are the extra features they pack into the Civic and what they add its driving experience. While standard features include things like a rearview camera and 5-inch media screen with Bluetooth connectivity, the trims beyond the Civic LX have a lot to offer.
Even just upgrading to the Civic EX, for instance, adds in push-button start and an upgraded infotainment system compatible with Apple CarPlay and Android Auto. Higher trims also deliver other upgrades like heated seats, leather seating, a built-in navigation system, and more.
Stay Safe on the Roads of Lemon Grove and Mission Valley
Depending on the trim you select, you'll also have a range of valuable safety features at your disposal. The Honda Sensing safety package gives you access to adaptive cruise control, forward-collision warnings, road-departure mitigation, lane-keeping assist, and more. The Civic is designed to not just keep you safe in the event of a collision, but to help you avoid one in the first place.
Find Out More and Get Financing at DCH Honda of Mission Valley
At DCH Honda of Mission Valley, we can answer any questions you have about the 2018 Honda Civic. We can also point you to other highlights from our inventory of new Honda cars. If you're in need of financing, get in touch with our finance center. You can fill out our online application and learn more about the loans and lease agreements available to you. We can also help you find out the trade value of your car.