Honda Clarity Plug-In Hybrid
New Honda Clarity Plug-In Hybrid
Honda Clarity Exterior Features

Plug-In Hybrid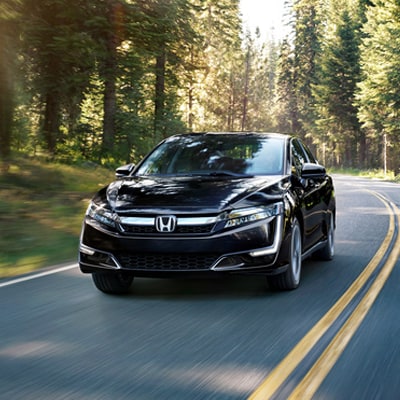 Plug-in Hybrid Performance
The 2019 Honda Clarity Plug-in Hybrid uses both gas and electric power to fuel your ride. It can used battery power alone for your daily drives around town, then switch to gas for your longer trips. This allows you to enjoy excellent efficiency without compromising on a great drive.
Safety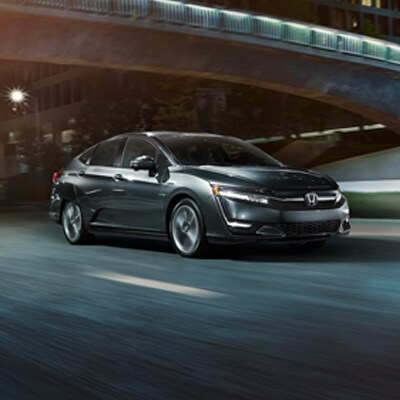 Honda Sensing®
The Honda Sensing® system comes standard in the 2019 Honda Clarity. This system is made up of driver-assist technologies that can help you stay safe on the road. They can help you brake in an emergency, help you stay safely in your lane and more for a safe and confident drive.
Style & Design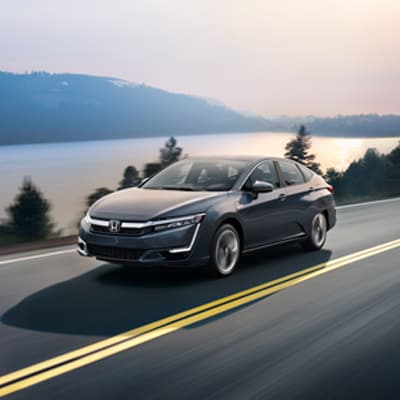 Aerodynamic Design
The 2019 Honda Clarity has a unique design that not only provides eye-catching style, but it also provides excellent aerodynamics. The streamlined silhouette, uniquely-shaped body side panels, front and rear air curtains and underfloor covers optimize aerodynamics for a quiet ride, sharp handling and improved efficiency.
Honda Clarity Interior Features


Seating Fabric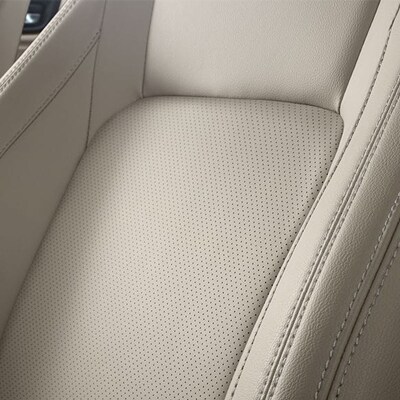 Eco-Friendly Fabrics
This vehicle offers more than just an eco-friendly ride. Inside the new 2019 Honda Clarity, you can also get available eco-friendly fabrics. It offers plant-derived bio-fabrics and Ultrasuede®, which are made with recycled materials. This makes it easy to be kind to the environment while enjoying a comfortable ride.
Cargo Space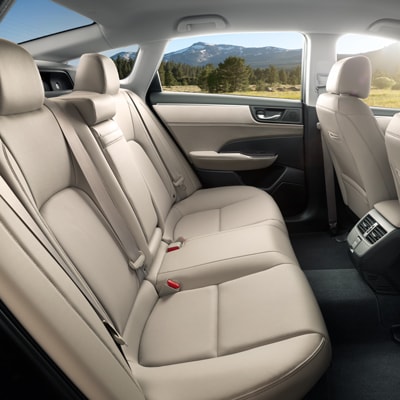 Ample Cargo Space
You can bring along all kinds of cargo in the 2019 Honda Clarity. This vehicle offers ample cargo room with more trunk space than many competing vehicles. It also offers split-folding rear seats, allowing you to expand the cargo area if you need even more room for your gear.
DCH Honda of Mission Valley

Here at DCH Honda of Mission Valley, we have a goal. That goal is to provide you with a vehicle that fits your budgetary parameters, complements your lifestyle, and exudes your personality. After all, a vehicle is not just a means of transportation; rather, it is a representation of your vehicle tastes, or your interests, and of your lifestyle.
When you shop with our team, you will have access to automotive experts whose job it is to match you with a specific automotive option that fits you, and everything you need in a vehicle.
A Plethora of New, Used, and Certified Pre-Owned Vehicles
One of the ways we are able to help a wide variety of drivers find their dream vehicle is due to our extensive selection of new vehicle. No matter if you want a sleek sedan that is highly efficient on the road, or if you need a spacious SUV that has cutting-edge safety technology, we can help you find a vehicle that is just right for you.
If you are interested in saving money on your purchase, though, you may be interested in checking out our used inventory. All of our used vehicles are highly reliable, and are extremely affordable. This means you will get more bang for your buck.
Additionally, you can check out our selection of certified pre-owned vehicles; these vehicles are also low-cost, come with a complimentary inspection, and often have less than 60,000 miles on them.
A Finance and Service Team you Can Trust
Once you have chosen a vehicle to take the next step with, you can meet with our financing team. They will ensure you understand all of the fine print associated with your specific financing situation, and can answer any questions about the payment process.
Our service team is also always here for you! They are highly precise, efficient, and friendly -- you can always trust them if something is amiss with your vehicle!
Looking for Your Dream Vehicle? We May Have It
If you would like to learn more about our selection of vehicles, or if you have any questions pertaining to the purchasing process, we invite you to visit us at DCH Honda of Mission Valley. We are located  in San Diego, CA.